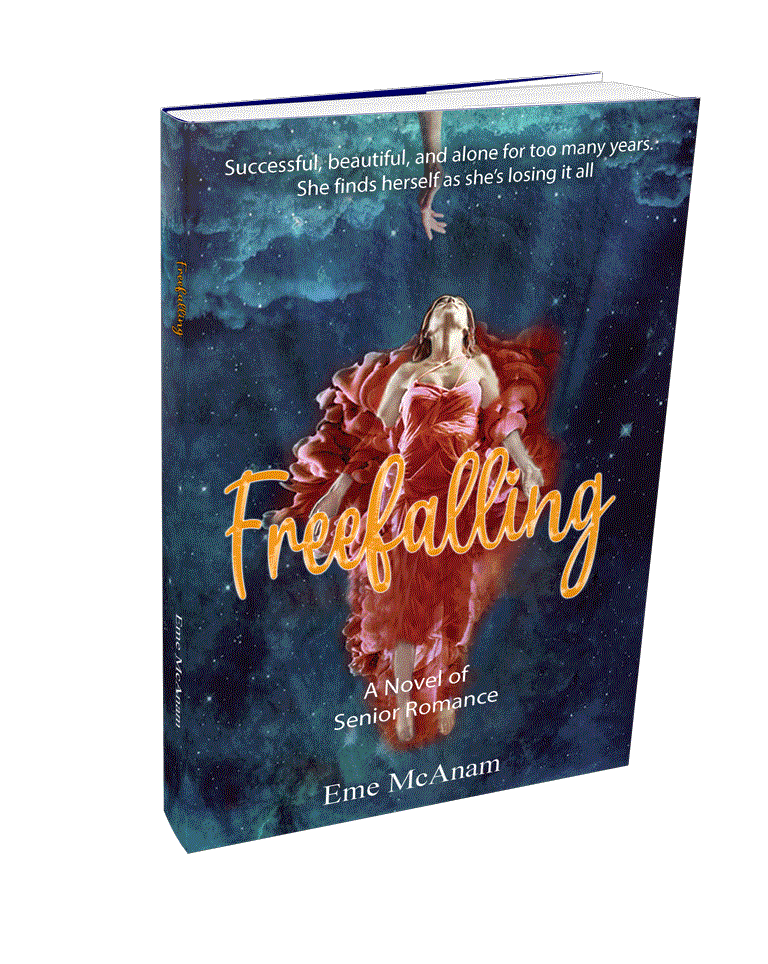 As the owner and operator of a successful five-star hotel, Charlotte had always put her work first. But as she entered the autumn of her life, she realized that her dedication to her career had left a void in her heart – she had never found true love. Despite the complications that come with finding romance at her age, Charlotte sets out on a journey to fill that emptiness. Through challenges and obstacles, Charlotte discovers that the golden years of her life can still hold happiness and fulfillment. Senior romance might come with its own set of hurdles, but ultimately it allows Charlotte to experience true contentment for the first time.
"…An uplifting tale of self-actualization with surprising plot twists…McAnam ably depicts the self-discovery of a woman who no longer bases her worth on her attractiveness…or her romantic relationships…"
"A novel that instructs the heart as it binds its curative spell. With her gift for truth and magic, Eme McAnam affirms my faith in reading, writing, living. A magnificent achievement, ambitious, earnestly buoyant, and very timely."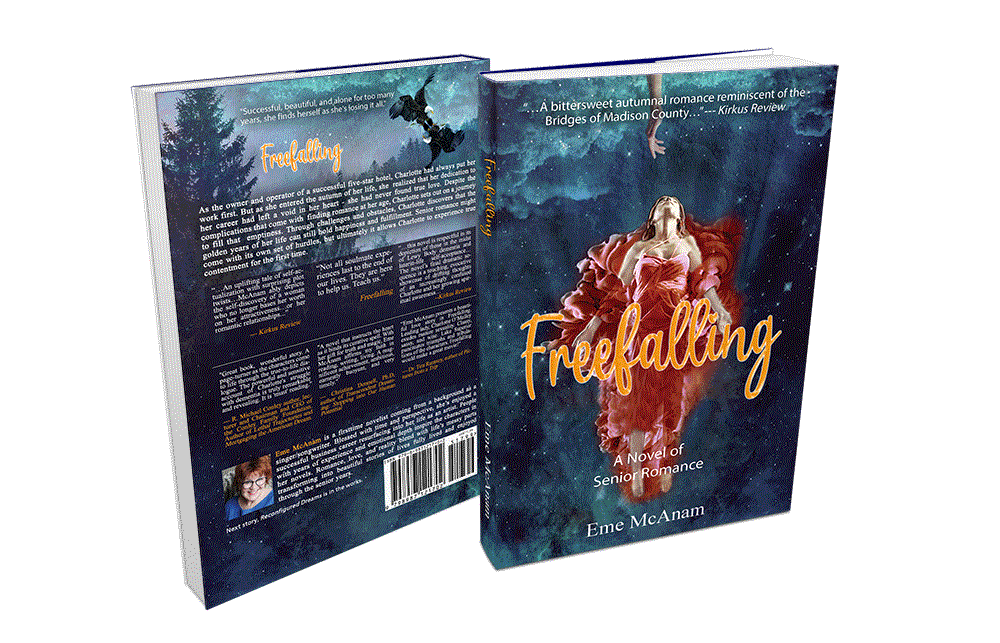 "Great book and wonderful story. A page-turner as the characters come to life through the true-to-life dialogue. The powerful and sensitive account of Charlotte's struggle with dementia is truly remarkable and revealing. It is 'must' reading."
"…this novel is respectful in its depiction of those in the midst of Lewy Body dementia and later-in-life self-acceptance… The novel's final dramatic sequence is a touching, evocative showcase of drifting thoughts of an increasingly confused Charlotte and her growing spiritual awareness…"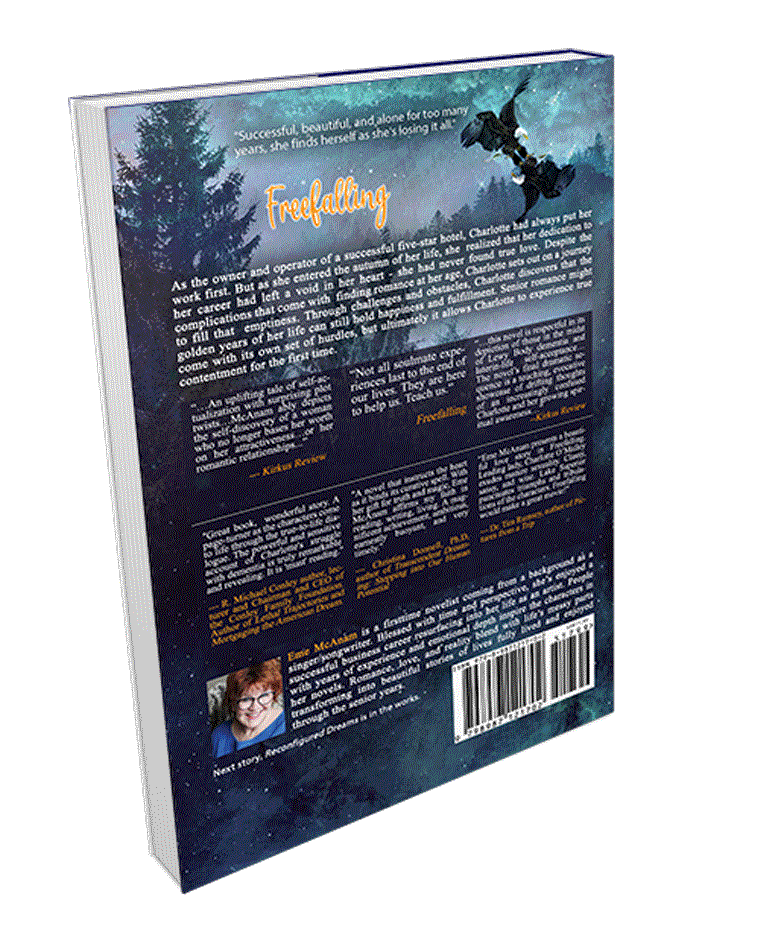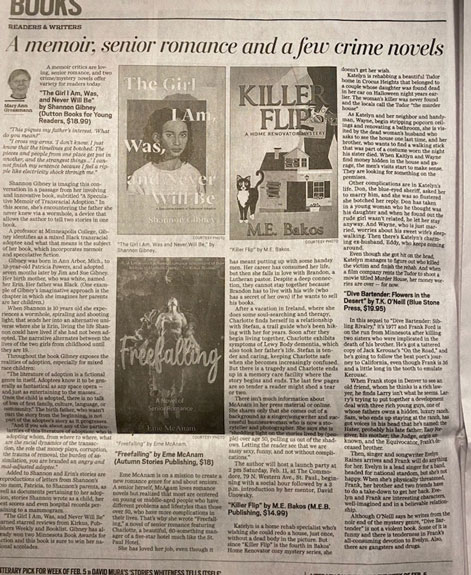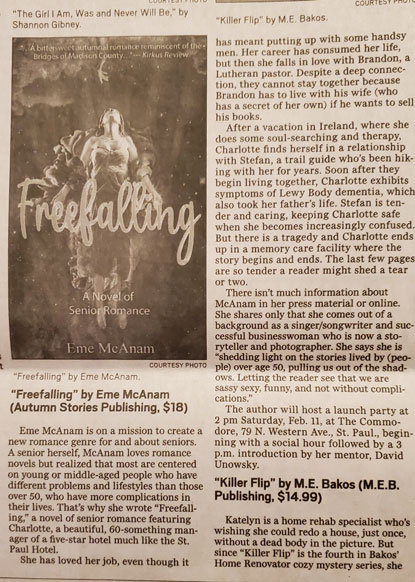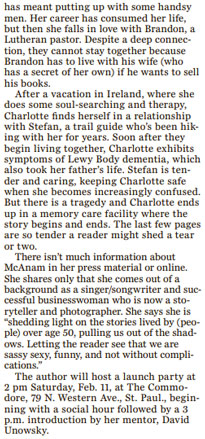 "Eme McAnam presents a beautiful love story in Freefalling. Leading lady, Charlotte O'Malley exudes mature sexuality. Classy, sassy, and wise. Lake Superior punctuates the triumphs and tribulations of the characters. Freefalling would make a great movie!"
"Not all soulmate experiences last to the end of our lives. They are here to help us. Teach us."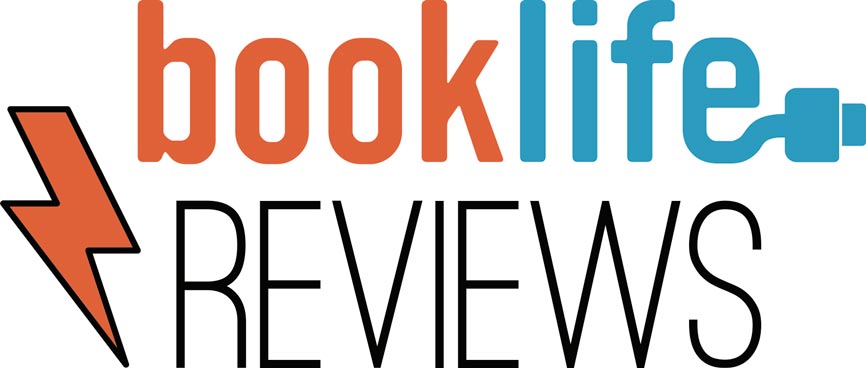 Debut novelist McAnam offers a unique romance, flashing between a woman's battle with dementia, her father's battle with the same illness, and her successful career running a five-star hotel and her discovering romance while in her sixties. Charlotte O'Malley relishes her satisfying career at the Tiffany Hotel in St. Paul, Minnesota, and though she occasionally wishes she had found her soul-mate, she enjoys her friendship with best friend and assistant Christopher. As her father's dementia worsens, Charlotte faces the reality of her father not recognizing her. When she meets Lutheran pastor Brandon Peterson while staying at a resort on Lake Superior, Charlotte is surprised by her almost instant attraction to him, feeling as though she has found the perfect man. There's a catch, though—he's married, leaving Charlotte feeling guilt and pain.
McAnam's senior romance capably highlights the allure and physical attraction between Charlotte and Brandon and the ensuing complications, focusing on her timeless beauty and the empowerment she feels as a result of her life experiences. During the on-again, off-again relationship, Charlotte meets Stefan, a trail guide at the lake resort, as they enjoy hikes together and cement their relationship. As Charlotte encounters further tragedies, Brandon returns, and through it all McAnam touchingly depicts her sensuality and femininity, a refreshing departure from the typical portrayal of over-sixty women as merely senior citizens.
McAnam also highlights Charlotte's struggle with the sexual abuse she suffered as a child at the hands of her father. This material is thoughtful and humane as Charlotte reconciles her concern for her father with the reality that, due to the disease, he is no longer the same person who abused her, even as she still bears the physical and emotional scars. McAnam's richly drawn novel, complete with enigmatic characters who face real-life struggles, is sure to resonate with romance fans of all ages.
Takeaway: Flashbacks reveal how a woman with dementia's rewarding career and romances in her sixties.
Great for fans of: Pamela M. Kelley's The Nantucket Inn, Julia Clemens's Sunset on Whistling Island.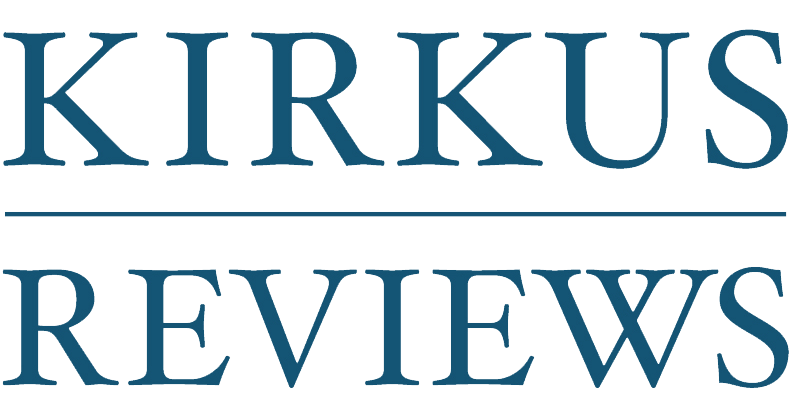 BOOK REVIEW A successful hotel manager finds love in her 60s, then descends into dementia in this "senior romance" novel.
In 2019, Charlotte O'Malley, "still striking at seventy-five years," is in the lobby of an assisted living home, talking to the staff as if she is the manager, recommending upkeep tasks, etc. She's expecting someone named Brandon to arrive, although her usual guests are a former work colleague and her niece, who mentions that Charlotte has episodes of Lewy Body dementia. Cut back to 2004. Charlotte is a hotel manager at the Tiffany Hotel in St. Paul, Minnesota. We meet Brandon, who first glimpses Charlotte at the hotel. They bump into each other again at a nearby resort on Lake Superior where they're both staying solo. She's taking a break from work and dealing with her abusive father who now has Lewy Body dementia and is in a nearby care home. Brandon is a Lutheran pastor who hasn't had sex with his wife in years and is spending a lot of time alone working on a book about sex and spirituality. Charlotte and Brandon begin their relationship with heartfelt talks and secret dinners, which soon progress to an incredible sexual connection. A series of life events—including Brandon's stumbling onto a discovery that helps to explain his wife's behavior—disrupts the romance. Charlotte delves deeper into herself during a trip to Ireland, returns a few weeks later to try to move on, and soon forms a new relationship with someone she's known for years. Fast forward to 2019 at the assisting living home; Charlotte has a healing encounter that may help her make peace with her past.
McAnam notes in the preface that Charlotte was based on women she met during her years running an assisted living home. Here, the author ably depicts the self-discovery of a woman who no longer bases her worth on her attractiveness (the focus of many of the characters in this novel) or her romantic relationships. As Charlotte's mentor in Ireland notes, "Not all soulmate experiences last to the end of our lives. They are here to help us. Teach us." The Charlotte/Brandon relationship, which takes up much of the book, is a bittersweet autumnal romance reminiscent of The Bridges of Madison County that takes some unexpected directions. The novel's final dramatic sequence is a touching, evocative showcase of the drifting thoughts of an increasingly confused Charlotte and her growing spiritual awareness. This novel crams in lots of plot details: Charlotte also had a mentally ill mother, is in recovery, becomes an acclaimed photographer later in life, and loses a loved one at sea. Brandon also contends with an array of challenges at home and at work. Overall, however, this novel is respectful in its depiction of those in the midst of Lewy Body dementia and later-in-life self-acceptance. An overstuffed but uplifting tale of self-actualization with surprising plot twists. Kirkus Review